Eric Wu, DMD
Beverly Hills & Los Angeles Orthodontist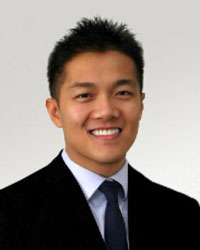 Dr. Eric Wu studied Chemistry at Pomona College, graduated magna cum laude, and was inducted into the national honor societies, Phi Beta Kappa and Sigma Xi. He continued his studies at Harvard University, where for four years he immersed himself in the art and science of medicine and dentistry. After graduating with a DMD and several notable distinctions, he moved back to California and trained at UCLA, devoting another three years to the study of orthodontics.
Dr. Wu is focused on achieving perfection and finds immense joy in sculpting beautiful smiles and simultaneously improving the quality of life of his patients. Using the safest and most gentle techniques, he makes every effort to provide his
patients not only the very best results but also a positive and fun experience throughout their treatment. Dr. Wu is well versed in all aspects of  orthodontics, stays on top of the latest developments in dentistry and orthodontics, teaches at UCLA School of Dentistry, and is an active member of the American Association of Orthodontics (AAO), American Dental Association (ADA), and California Dental Association (CDA).
Call   323-933-4444    to schedule your Consultation with Dr. Wu!